State of the Art Live Leaderboard Services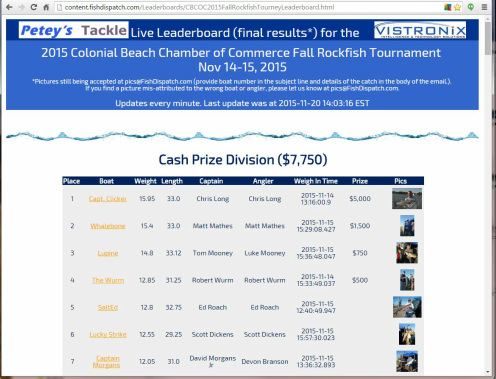 Fish Dispatch USA, on behalf of our territory owners and operators, would be glad to provide our live leaderboard services for your event. We have the most advanced real-time system and infrastructure to support your peak demands. Features of our system include the following:
Public generated web page promoting your tournament
Online enrollment and registration for boat captains and anglers (accepts PayPal, Credit Cards, or check)
Public generated leaderboard web page that automatically updates upon each weighed fish entry
Supports multiple rule based tournaments and prizes (e.g., it can handle multi-species tournament, aggregate weights, multiple divisions, catch-n-release)
Weigh-in can be performed by multiple users at multiple locations via smart phone, tablet, iPAD, or laptop.
---
See this
page
for active and previously deployed live leaderboards.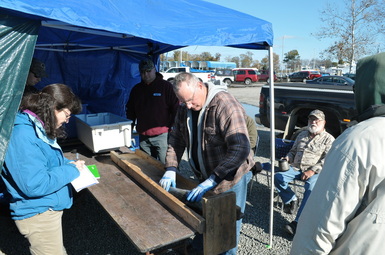 Tailoring of your unique leaderboard to include your sponsors, themes, and links to your social media content (you can also choose from predefined templates)
Google analytics to provide you insights to your media exposure on behalf of your event sponsors
Alerts to subscribers on updates
Supports catch-n-release tournaments via pictures sent in via email or via the Fish Dispatch App

---
Turn-Key Support Package (optional)
Optional for tournaments that don't want to bother with the data entry. We send in a team to sit alongside your weigh master and perform the data entry into the leaderboard system.
We perform the media management functions for you (i.e., we'll send photographers and our weigh in kiosk to take snaps of all the boats and fish at weigh in).
We will monitor all pictures coming in during the day that are promoted to the leaderboard.
Media forensics and vetting. We apply our industry expertise for you to ensure that the pictures being sent in are legitimate and correctly time tagged.
Social Media Content and our Sponsor Background Curtains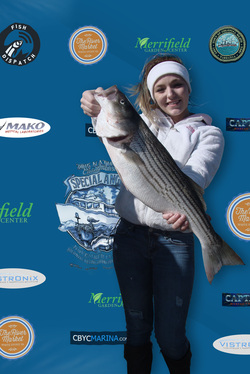 The Fish Dispatch Leaderboard system enables event organizers and spectators alike to add media content to each catch and/or boat. This enables you to create the "buzz" of your event. The media content may be linked to the following:
Boat entry

Angler entry
Hook-Ups
Weigh-In Catch
Miscellaneous Tournament Pictures
Our system also enables you to promote the media content to your own social media platforms such as Facebook, Twitter, and Instagram with built in "likes" and "share" features.
By using our custom "sponsor background curtain" for the tournament pictures, your sponsors get the additional visibility wherever those pictures migrate through social media.
---
Blue-Force Tracking
Ohh, and don't forget to add Fish Dispatch
blue-force tracking
to your event. Fish Dispatch provides a live web page that shows the current location of tournament boats and their previous track. It updates once a minute (or higher frequency based on your tailoring). The web page can be maintained privately for tournament organizers, or individuals teams, as well as a public page for all to view. This is a great crowd pleaser that generates additional "buzz" and views to all your media content (i.e., more eyes on your sponsors' ads). Perfect for sailing regattas.
This capability requires user's to download the Fish Dispatch smartphone App (or use our pre-loaded smartphones), but we would be more than happy to provide the same capability in a tailored app for your own event. You receive the benefit our using our infrastructure for merging and displaying all the GPS data for all your boat entries. In addition to "self reporting" features, Dispatch also provide the ability for you to task anyone in the region of your operations to provide eye witness sighting of tournament boats. This may be useful for safety and enforcement of the rules when boats are restricted to specific bodies of water.
---
Key Elements of the Leaderboard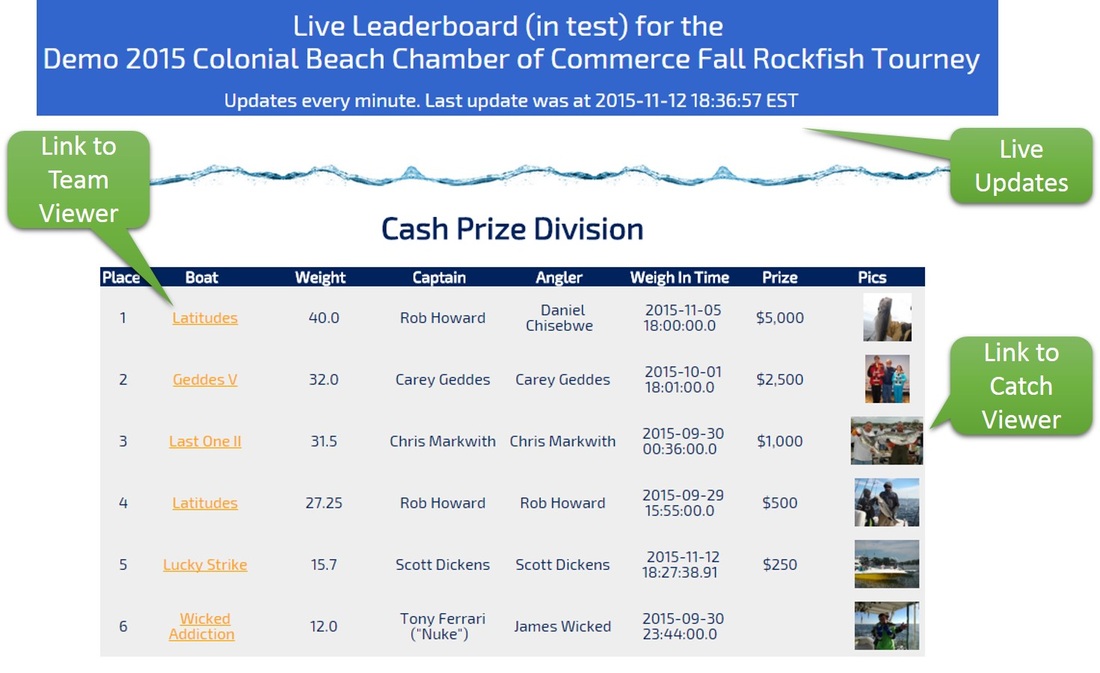 Team and Catch Viewers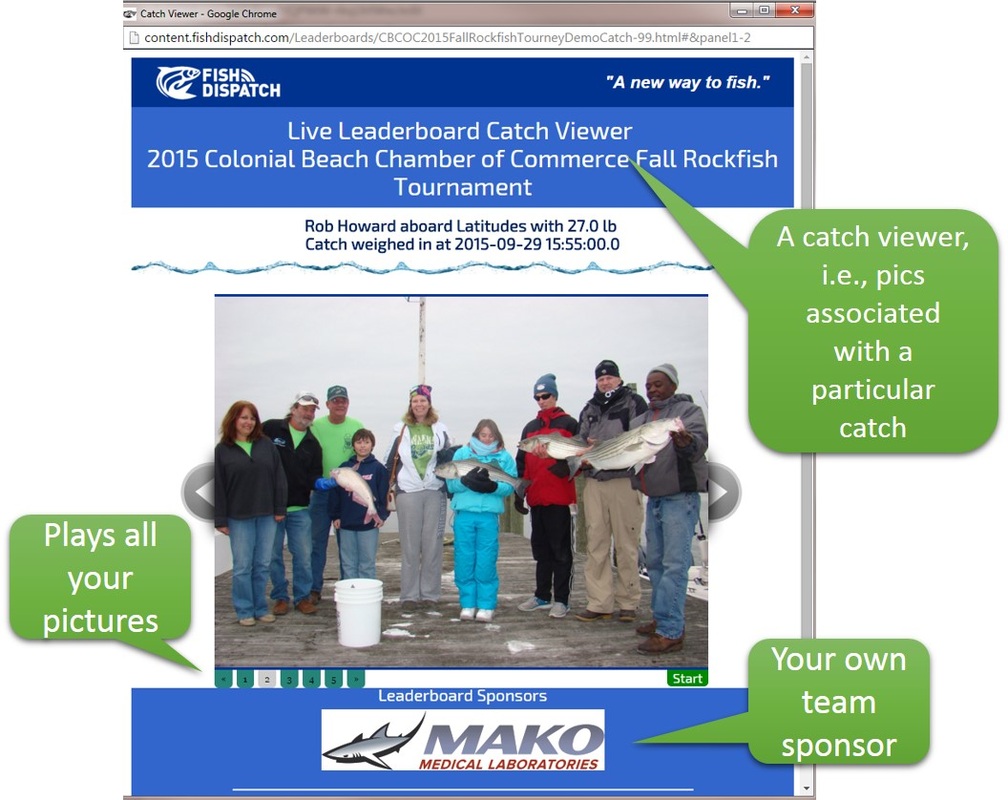 Picture Divisions for Catch-n-Release
Unlike any other leaderboard system built today, we can handle your catch-n-release tournaments via our our easy to use integrated media manager. As anglers send in their pics, either via email or with the Fish Dispatch App, you can perform further media triage, assigning the catch to the correct boat and validating the species identification. The media triage is automatic if your participants use the Fish Dispatch App, but if not, it will also make smart guesses on the registered boat # and angler associations based on the sender's email address, subject line, and content info within the email. The example below shows a very innovative use by a particular tournament that used this feature for a "Pictures Division" where they assigned door prizes for pictures being sent in by the boats prior to weigh in. This type of feature brings in your audience as they live vicariously through the action taking place out on the water.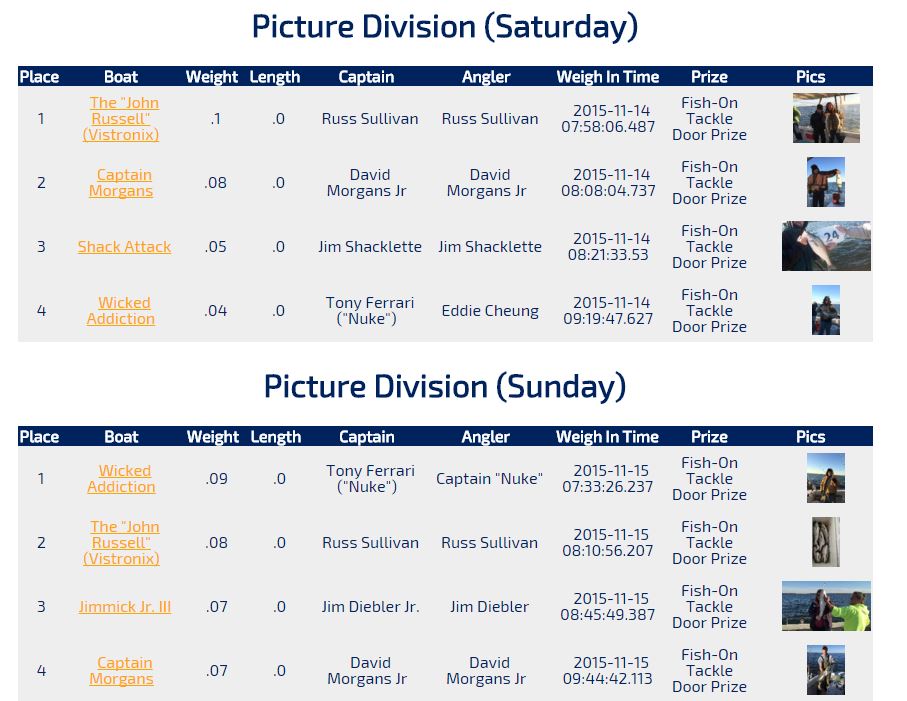 On-Site Displays

As part of our "turn-key" leaderboard service, we have the ability to work with your own infrastructure or bring in our own large screen monitors. The picture above shows an example where we used the existing large screen monitors at a restaurant to display the live leaderboard.
Live Leaderboard Frequently Asked Questions (FAQ)
What will this cost for my event? Answer: We don't think this service should cost you anything. The Live Leaderboard provides your sponsors with incredible amounts of media coverage and advertising. We are happy to work directly with your sponsors in covering the costs of the service. In some cases, we may already have contracts in place with sponsors who want visibility at your type of event and who will cover the costs of the service. If you want to contract directly with Fish Dispatch, please reach out to your local territory Fish Dispatch owner or our corporate office via email or Facebook so that we can assess your event.
Will this work if we utilize multiple weigh in stations? Answer: Yes. The Live Leaderboard utilizes a robust enterprise architecture with a central database allowing simultaneous data entry from multiple users via a web browser interface. Weigh in officials can access the Leaderboard Portal with nearly any internet connected device (e.g., smartphone, iPad, laptop, etc.) using a standard browser (Firefox, Chrome, etc.).
What if we want to run the entire system locally on our own private intranet? Answer: Yes, you can do that too. Although most customers prefer us to manage the back end server(s) running on Amazon Web Services (AWS), you do have the option to run your own local copy utilizing your own private intranet.
What are the sizing requirements if I run the system locally? Answer: The sizing of your system depends on the number of simultaneous users you expect to perform data entry. If you plan to use only one user for data entry, you can run the entire system with an average 4 GB Windows commodity laptop (Windows, Linux, or MacOS). If you dedicate that laptop as a server, it will be able to support 3~4 users connected on your network (e.g., WiFi) and utilizing the web browser interface from their devices. If you go beyond four users, we recommend a sturdy commodity desktop with 8 ~ 16 GB of memory.